4. October 2023 | News, Press releases
Confex - One year to go!
Ahead of its opening in Q4 2024, the Confex has already been booked for numerous events and is in high demand among regional and international event organisers.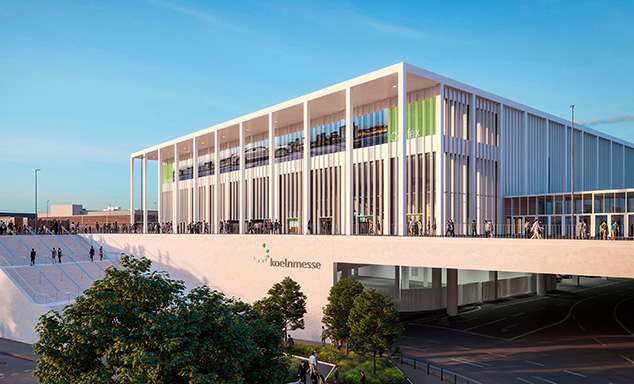 Congress operations at Koelnmesse's Confex will start on schedule. The first events are planned for the summer of 2024 and large-scale events will be held starting in the fall. Event planners are showing great interest in the new, multifunctional congress and event location on the Koelnmesse grounds. Koelncongress GmbH, which is responsible for marketing the Confex, has already received multiple event bookings and numerous concrete inquiries for events taking place up to the end of 2029. Many of the interested organisers will be holding an event in Cologne for the first time.
Large-scale operations will kick off in early October with a three-day financial sector event involving around 5,000 participants spanning the entire Confex building and its outside area. This will be followed in November by the 91st Annual Global Congress organized by the Global Association of Exhibition Industry (UFI), a highlight of the event sector.
The largest global conference for executives in the international trade fair industry will return
to Cologne from November 20 to 23, 2024, to mark the 100th anniversary of Koelnmesse, one of the founding members of UFI.
The calendar of events for Confex is filling up even beyond 2024. In the fall of 2025 and 2026, for example, two major annual conferences of the medical and IT sectors will be held in Cologne for the first time, each attracting up to 5,000 people.
In addition to the completed bookings, the Koelncongress sales team has already received 40 further concrete inquiries for events taking place up to the end of 2029. Marketing measures for the Confex are focussed on attracting multi-day event formats with over 1,000 participants.
"It is already clear that the Confex will fill a gap in Cologne's location portfolio with the space it offers and play a central role in the further development of Cologne as a trade fair and congress location," says Koelncongress company representative Mandy Pahl-Bauerfeind, who is responsible for the market launch as well as the operational management of Confex. "With the Confex, we are actually succeeding in attracting new target groups to Cologne as a location and in bringing major German and international congresses from all fields and areas of expertise to Cologne for the first time."
Koelnmesse is having the 150-million-euro Confex constructed at its trade fair site with direct connections to Halls 1 and 2.2 as part of its major "Koelnmesse 3.0" project. The Confex is being built to the highest sustainability standards and is seeking platinum certification from the German Sustainable Building Council (DGNB).
With a total of 22 conference rooms and the large, multifunctional Confex hall, it will offer space for innovative event formats and more than 6,000 participants.
State-of-the-art media technology and IT infrastructure, light-flooded rooms and foyers as well as green outside areas provide the utmost convenience and comfort. Located near Cologne's city centre and the Rhine, the Confex is within walking distance of the ICE train station.
Koelnmesse CEO, Gerald Böse: "We are pleased to be on schedule with construction of the Confex and to be attracting a great deal of attention from organisers already.
The excellent number of bookings to date along with numerous inquiries confirm our rigorous efforts to construct the Confex."
The Confex at a glance:
Capacities
Features
Confex: 5,500 square metres with a total capacity for 6,200 people
Confex hall: 4,800 square metres, divisible into 3 sections + 3,300 square metres of foyer space
Conference rooms: 22 rooms with daylight on two levels for 15 to 400 people, some with a view of the cathedral
Plaza: 5,600 square metres with green areas and recreation zones
Halls: direct connections to Hall 1 + Hall 2.2 (each approx. 10,000 square metres), a total of 11 exhibition halls in the immediate vicinity with 285,000 square metres of exhibition space
State-of-the-art conference media technology and IT infrastructure
The photovoltaic system installed on the roof generates the electricity required for the Confex, which is equivalent to the annual consumption of 95 two-person households.
The Confex has received platinum pre-certification from the German Sustainable Building Council (DGNB).
Sales are handled by Koelncongress GmbH, a wholly owned subsidiary of Koelnmesse.
About Koelncongress GmbH:
Koelncongress GmbH was founded in 1994 from the former Congress unit of Koelnmesse. Today, Koelncongress GmbH is a wholly owned subsidiary of Koelnmesse GmbH and, with more than 50 employees, serves as a full-service provider in the business segments Guest Fairs, Congresses and Meetings, Corporate Events and Social Events.
Up to 30 guest trade fairs on the Koelnmesse trade fair grounds as well as an additional 1,700 events with more than 1 million visitors take place each year at attractive locations in Cologne including the Gürzenich, the Tanzbrunnen, the Rheinterrassen, the Flora and the Koelnmesse Congress Centres. Koelncongress is also responsible for marketing the multifunctional congress and event location Confex.
Further information on Koelncongress: koelncongress.de/en
Information on Confex can be found here: confex.koelnmesse.com/en/
Please don't hesitate to contact us with any questions you may have:
Koelncongress GmbH
Franca Wenzl
Head of Marketing & Communication
Phone: 0221 – 821 2122
f.wenzl@koelncongress.de
Koelncongress. The right place.